Your Insider Guide to Orlando
For the Love of Nature
Located about 25 minutes south of the Florida Hotel and Conference Center, the Tibet-Butler Preserve offers an array of hiking trails that promise outdoor fun for all ages and abilities.
In addition to the nature trails, the preserve also houses a beautiful nature center that provides educational programs and features a tranquil butterfly garden. You and your family may want to pack a lunch to enjoy at one of the picnic areas, so you can make a whole day of your trip to the preserve.
Be on the lookout for indigenous plants like longleaf pines and cypress trees as well as native birds like osprey and barred owls. If your vacation involves pictures with characters, rides, and lots of lines, the peaceful feel of the Tibet-Butler Preserve will be a welcome respite.
The Wonderful World of Whiskey
If you are a fan of the drink, then you will want to attend the Orlando Whiskey Festival on March 14. The event, put on by Whiskey and Bizz, LLC, is the first of its kind in the Central Florida area. Throughout the festival, you will be able to sample from over 100 brands of whiskey including single malts, blended Scotch, bourbon, and rye. Plus there will be a variety of flavored beer and wine available for those who are not fans of the festival namesake. There will also be industry professionals available all day long to answer any of your questions about pairings, crafting, and, of course, tasting.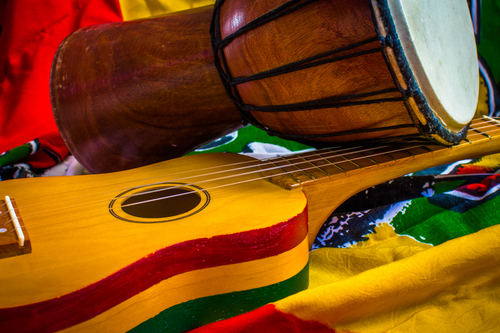 Play Some Reggae Music
If you agree with this sentiment, then you will want to attend the Orlando Reggae, Wine, Food & Music Festival on February 16. This unique, all-day music festival will take place at Bill Frederick Park, just 25 minutes from The Florida Hotel and Conference Center. All-day long, there will be live acts performing classic reggae favorites as well as new offerings to the genre. A souvenir wine glass is included with your ticket, and it will come in handy as you try as many of the featured wines as you would like. There will even be a Sip & Paint exhibit which lets you test your artistic abilities while enjoying vino samples. Reggae music has a history of bringing people together with its laid back vibes, and the Orlando Reggae, Wine, Food & Music Festival is sure to do just that.
A Month of Concerts
The House of Blues is located at Disney Springs, just 30 minutes from the Florida Hotel and Conference Center. The month kicks-off with Grace Potter on January 10. The following night, Slander presents The Eye will take the stage. Motion City Soundtrack will be performing on January 15 and Departure, a tribute to Journey, will play on January 17. Guitar dynamo Jonny Lang will be melting faces on January 18, and The Dead South will be stopping by on their Served Cold Tour on January 21. The month closes out with can't-miss shows from Machine Head on January 26 and Citizen Cope on January 30. No matter which shows you attend, you are guaranteed to have a good time at The House of Blues.
Christmas Trees, Disney Style
This holiday installation, known as the Christmas Tree Trail, is free to visit, and it is a great way to get into the holiday spirit. Disney Springs is located about 25 minutes from the Florida Hotel and Conference Center, but you can easily spend an entire among the shops, restaurants, and holiday decorations. Each tree along the Christmas Tree Trail focuses on a different theme of beloved Disney character. Everyone from Mickey to Olaf, Cinderella to Tiana, Peter Pan to Maui, and all the characters in between will be there for the holiday season. There will even be special holiday treats like Mickey Mouse shaped delicacies, hot cocoa, and other Christmas favorites. In addition to all of the fun with decorations, Disney Springs is a great location to do some shopping this holiday season.
A Sudsy Celebration
The 5th Annual Orlando Beer Festival takes place on that day starting at 2 pm at Orlando Festival Park, just 20 minutes from the Florida Hotel and Conference Center. With over 200 craft beers from local area vendors, the state, and all across the country, you are sure to find your new favorite brew. In addition to the beer, there will be wine tastings, food trucks, live music, fun games, and even TVs showing college football games for all you sports fans. Included with the price of admission is a commemorative sampling cup that you can use all festival long. Whether you are a beer connoisseur, an enthusiastic amateur, or somewhere in between, you are sure to have an outstanding experience at the Orlando Beer Festival.
Haunted Halloween Nights
Dark Horizon haunted house has all of the scares you look for in a Halloween attraction and so much more. Open from October 10 until November 2, Dark Horizon is only about 20 minutes from The Florida Hotel and Conference Center. In addition to 3 unique haunted houses where you have to face spooky encounters with serial killer Bloody Ed Watson, Captain Killigrew and her crew, and a voodoo princess, Dark Horizon is home to immersive bars with Halloween themed drinks, music from Monster DJ, and live entertainment at the Sacred Circle Stage. If you are looking for a fully immersive haunted house experience then Dark Horizon is just the attraction for you. No other haunted attractions in the Orlando area combines scares, specialty cocktails, and spooky treats like Dark Horizon.
Howdy Partner
All of the fun takes place at Silver Spurs Arena, just 25 minutes from The Florida Hotel and Conference Center. Some of the exciting events include a working cow dog competition, Ranch Rodeo, Ranch Bronc Riding, Colt Riding, Wild Cow Milking, Colt Riding, Calf Branding, Double Mugging, and Team Doctoring. Plus, you will definitely not want to miss the beef brisket cook-off and the whip popping competition. If you have ever dreamed about the life of a cowboy is really like, then you are sure to enjoy all of the excitement of the 2019 Florida Ranch Rodeo and Cowboy Heritage Festival. It is sure to be a wild and fun time.
The Best of Orlando Shopping
When people think of Orlando shopping, the first place that comes to mind is The Florida Mall which is conveniently located just next door to The Florida Hotel and Conference Center. With stores like the Banana Republic, Crayola Experience, Dillard's, Macy's, The Disney Store, Express, and many more, The Florida Mall is the gem of the Orlando shopping malls scene. In addition to all of the shopping offerings, The Florida Mall also has incredible dining options like Buca di Beppo, Five Guys, Hocca Bar, Sushi Yummy, and Ugrean. Be sure to keep your eyes open for special events that take place throughout the year at the shopping center. When you prepare your shopping day in Orlando, be sure to make The Florida Mall your first stop.
Golf for the Whole Family
The first, Hollywood Drive-In Golf, is only about 15 minutes from The Florida Hotel and Conference Center. This course features challenging holes with classic horror and science fiction movie themes. Pirate's Cove Adventure Golf, about 10 minutes away, has a swashbuckling theme that will have your whole family talking like Jack Sparrow before the round is complete. Lastly, Disney's Winter Summerland, about 25 minutes away, includes two unique miniature golf experiences. The first, a winter-themed course, contrasts beautifully with the warm and sunny weather of Orlando. The second, a summer-themed course, captures all of the freedom and adventure that summer symbolizes. No matter which course you and your family choose, you will surely be talking about the epic competition for years to come.
The Bandito Tour
The extremely talented duo accomplished that rare feat in 2016 with the songs "Heathen" and "Ride." Since the unbelievable success of their album Blurryface, Twenty One Pilots, comprised of Tyler Joseph and Josh Dun, has become one of the most popular bands in the entire world. On June 16, you have the opportunity to experience all of the excitement of a Twenty One Pilots show at the Amway Center which is only about 20 minutes from The Florida Hotel and Conference Center. Twenty One Pilots is well known for their energetic sets that get the entire audience involved, so you will not want to miss your chance to see these musical dynamos in action.
Megacon 2019
This year's event will take place from May 16-19 at the Orange County Convention Center which is only about 15 minutes from the Florida Hotel and Conference Center. Some of the biggest names in entertainment will be appearing including Aquaman (Jason Momoa), Marty McFly (Michael J. Fox), Wonder Woman (Lynda Carter), Jack Bauer (Kiefer Sutherland), Doc Brown (Christopher Lloyd), Doctor Who (David Tennant), and many more. There will be plenty of fun attractions like celebrity photo opportunities, Star Wars events, Tattoo Pavilion, Artist Alley, and lots of autograph sessions. So dress in your best cosplay, bring your autograph book, and experience all that Megacon Orlando 2019 has to offer.
A Festival of Films
The Florida Film Festival is unique because it is Oscar-qualifying in the Live Action Short, Animated Short, and Documentary Short Subject. The 2019 Florida Film Festival will be home to 54 feature films and 126 shorts. The festival highlights films from local Florida filmmakers, filmmakers from around the United States, and filmmakers from around the world. Throughout the entirety of the festival, there will be delicious food and hand-crafted specialty drinks available at Eden Bar. If you are a film lover and you want to prepare for the 2019 Oscar season, then you will not want to miss The Florida Film Festival.
A Night Full of Laughs
All of the fun will take place on March 22 at the CFE Arena which is located only about half an hour from the Florida Hotel and Conference Center. This show is definitely worth the short drive. The guest host for the night will be Sommore who is best known for her award-winning work on "Chandelier Status." Earthquake, best known for HBO's Def Comedy Jam and BET's Comic View will bring his hilarious styling to the show as well. The audience will also be delighted by Rickey Smiley and DC Young Fly, the latter of which starred on Nick Cannon's hit "Wild 'N Out." With a collection of talent like this one, you are sure to be laughing all night long.
Soccer Pub Crawl
All of the fun starts at Lion's Pride which is only about 20 minutes from The Florida Hotel and Conference Center. After Lion's Pride, the fans will make their way to Elixir and then to Wall St. Plaza. This pub crawl has become one of the most popular events of the year, and even if you are not a soccer fan, you are sure to enjoy all of the fun and excitement. If you are a fan of the beautiful game, you can join in the spirit of the event by wearing Orlando City Gear, Orlando City colors, face paint, or any other soccer apparel that you have. By the end of the night, you will be saying, "Cheers to Orlando City" with all of your new friends.
Here We Go Again
On January 21, Cher will be performing at the Amway Center, home of the Orlando Magic, which is less than 20 minutes from The Florida Hotel and Conference Center. Of course, Cher will belt out some of her biggest hits like "Gypsies, Tramps, and Thieves," "I Got You Babe," "Believe," "If I Could Turn Back Time," and " Just Like Jesse James." Plus, after the success of the film Mamma Mia 2, Cher will be adding some songs from the Dancing Queen album to her show. If you have ever seen Cher before, you know that her shows are more than just the songs themselves. She brings an energy that will fill the entire arena.
The Pyrotechnic Nutcracker
Of course, the ballet follows the story of the Nutcracker Prince Nikita who saves Maria and takes her on an adventure through his kingdom. The ballet hits the highlights like the meeting with the Sugar Plum Fairy and a celebration of dances from around the world. However, all of the classical story and dances are enhanced with Cirque like flourishes and plenty of pyrotechnic displays. All of the fun takes place on Saturday, December 15 and Sunday, December 16, so get your tickets soon before they all sell out.